To our guests from overseas
Welcome to the T.O. Department Store
The T.O. Department Store is located in a six-story building offering an extensive range of products.
Among our merchandise are clothing, jewelry, cosmetics, luxury handbags and wrist watches,
household electronics, home goods, and much more.
Also within the building are a food supermarket,a 100-yen shop (DAISO), and a cafe.
NEWS

In summer 2015, a new duty-free system was launched.

     The time taken to complete the procedure is now much shorter, just one fifth of the previous system.
Address

10-25,Yanagawa-cho,Hakodate,Hokkaido

      (北海道函館市梁川町10-25)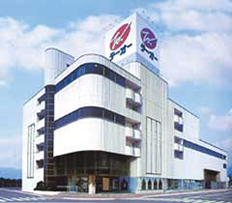 TEL

+81-138-32-0001

    (support provided in Japanese only)
Access

MAP(

LINK

)
A 10-minute taxi ride from the JR Hakodate station
A 10-minute walk from the city streetcar "五稜郭公園前 Goryokaku koen-mae" stop
Free parking (114 vehicles)
Hours of Operation

Open 365 days a year, 10 a.m. to 7:00 p.m.

           (Floors 1 and 4 are open until 8:00 p.m.)

Accepted Payment Methods
Cash (Japanese yen)
credit cards (VISA, MASTERCARD, JCB, AMERICAN EXPRESS, etc.)
銀聯-China Union Pay Card (debit cards)
Tax Exemptions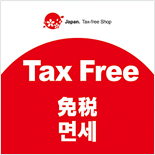 Our store will gladly accept applications for tax exemptions.
(only on the day of purchase)
Applicable for the Following Guests:
Foreign guests who have been in Japan for less than 6 months.
(Residents of Japan are not eligible. A passport must be presented when making an application.)
Applicable for the Following Products:
General merchandise (clothing, fashion goods, accessories, wrist watches, etc.)
Purchases made that day totaling 5,000 yen or more, excluding tax.
Limited to items to be taken out of the country within 6 months of the date of purchase.
Consumables (food, beverages, cosmetics, pharmaceuticals, etc.)
Purchases made that day totaling between 5,000 and 500,000 yen, excluding taxes.
Consumables will be placed in specified, transparent plastic bags and sealed.
Do not open the package until you leave Japan.
(Note: If you open the bag, you will be charged the appropriate amount of tax at customs.)
Limited to items to be taken out of the country within 6 months of the date of purchase.
Items cannot be consumed within Japan.
"Consumables" that qualify for the tax exemption are available at:
Cosmetic stores (1 FL), THE BODY SHOP (1 FL), phiten (cosmetics, 2 FL),
and World Import Boutique EX (fragrances, 2 FL)
Limited to individual guests.
Sales areas excluded from tax exemption
1 FL - Food market, Bakery (ITALIAN TOMATO)
4 FL - Book store (文教堂) and DAISO,
6 FL - Event Hall, Travel Center, Cafeteria (箱館手づくり工房), Massage (Puamana),
and Service Counter Items
We provide translation tablet devices and conversation sheets
(point to expressions, etc.) on the 1st - 3rd floors for your convenience.
The main languages supported include the following:
English, Chinese (Traditional and Simplified), Korean,
and Thai (various other languages are also supported).
Procedure
Please select your purchases in the department store.
A member of our staff will guide you to a tax exemption service center.
10:00 a.m. to 7:00 p.m. 2 FL World Import Boutique EX
7:00 p.m. to 8:00 p.m. 1 FL Handbag Corner
Complete tax exemption procedure.
The passport of the person making the purchase is required (with entry certification stamp).
Make payment.
In addition to Japanese yen, we accept various cards
(including VISA, MASTERCARD, AMERICAN EXPRESS, and 銀聯-CHINA UNION PAY CARDS.)
Present your purchases.
Tax exemption service center
(Store directory)